GOLD LOCATIONS IN UTAH
Although Utah is seldom mentioned as a major gold producer it is rated sixth in the United States. Most of the production came as a by product of copper mining. Utah's gold concentrations generally line in the central part of the state in a north to south zone. Most of the gold areas are within an easy drive from Salt Lake City. On the western side of the Oquirrh Range is the world's largest copper mine. It is located in Bingham Canyon and gold has been produced in the same Canyon since 1863. Mining is important to Utah's economy. Commercial placer operations in Utah have been mostly considered unsuccessful, however, in many parts of the state there are large areas of stream and bench gravel that have not been tested. Lack of water in many areas has hampered prospecting efforts.
---
BEAVER COUNTY UTAH
From the time gold was discovered in 1860 until present day, Beaver County has produced some 56,000 ounces of gold. Mostly as a by product of other base metal operations.
Milford Area
In the San Francisco Mountains, near Milford, there were many old silver, copper and lead mines that produced a by product of gold. If you go west of Milford by 24 miles on Route 21 to the old ghost town of Frisco, in the San Francisco Mountains, you will be in the San Francisco District which produced around 22,00 ounces of gold to 1917. The Horn Silver Mine was discovered in 1876 and produced 60% of the gold in the county. For about 10 years this was the most successful gold and silver mine in Utah.
---
BOX ELDER COUNTY UTAH
Park Valley
In the Park Valley area there were numerous area mines that produced a by product of gold.
---
CACHE COUNTY UTAH
Newton
Gold in minor amounts is reported in the Newton area as a by product of other base metal mines.
---
EMERY COUNTY UTAH
Unknown Locations
In 1916 the U.S. Bureau of Mines recorded a small amount of placer gold recovered in Emery County. Nobody, even state mining historians, have been able to agree where it came from. Some people say it was mined in the Emery or Lost Springs District and was placered as surface erosion from lode mines found there. Other experts say this placer was found on the Green River. Placer gold was found here in the depression years, but it was credited to Grand County.
---
GARFIELD COUNTY UTAH
White Canyon
All regional watercourse, bench and terrace gravels should be checked for placer gold. State records say that over 2,000 ounces of placer gold has been recovered. Unfortunately, most of these are now under Lake Powell and may be lost to prospectors, due to depth of the lake.
Colorado River
About 1,200 ounces of placer gold was recovered from the Colorado River in Glen Canyon area. From Lake Canyon upstream to the Dirty Devil River is where to check. This gold is very fine and extremely hard to recover. Most of the areas are under 200 feet of water, but you may get lucky and find an old canyon that was placered.
Crescent Creek
Around 500 ounces of placer gold was found in Crescent Creek. This was a dry washing area with many of the drainages containing gold.
---
GRAND COUNTY UTAH
Around 2,000 ounces of placer gold has been recorded in Grand County. The general area that is richest seems to be around the La Sal Mountains. the most productive areas were in Miners Basin, Wilson Mesa and Placer Creek.
Wilson Mesa
Many of the regional mines produced lode gold in the Wilson Mesa area.
Colorado River
The Colorado River through much of Grand County has been placered, but the gold is very fine and difficult to recover.
---
IRON COUNTY UTAH
Most of the 12,760 ounces of gold produced in Iron County came from the Stateline district in the extreme western part of the county near the Nevada border. Iron County has been a major producer of iron, copper, silver and gold. Gold has been relatively unimportant economically by itself, but usually as a by product of other mining. The mines in this county were worked until World War II. Flooding and high cost keep them closed.
Uvada
The area along the Utah - Nevada Line at Latitude 38 degrees North is the location of the Stateline district. The Gold Springs Camp had many are mines and veins in latite with a by product of gold. North of Uvada, several mines had veins of gold in rhyolite.
---
JUAB COUNTY UTAH
The amount of gold from Juab County is hard to estimate, because a lot of the gold totals were combined with the East Tintic District in Utah County. Most of the gold came from lode sources and are of little interest to the placer miner.
Fish Springs
In Fish Springs many are lead - silver mines produced rich by product of gold.
Tintic
This district produced almost 3 million ounces of gold as a by product of the load mines. The principal mines were the Chief, Centennial, Eureka, Mammoth, Gemini, Eureka Hill, Iron Blossom, Tintic Standard, North Lilly, and Eureka Lilly. Below the mines there is a potential for placer deposits.
West Tintic
The area lead and copper mines produced a by product of gold.
---
KANE COUNTY UTAH
Kanab
If you go east of Kanab about 20 miles on a dirt road to the Paria River and ghost town settlement of Paria there was some placer mining conducted. The area around the Vermilion Cliff's had a few small mines for gold and silver. In the regional shinerup clays, finely disseminated gold was worked. Paria was the site of an old gold rush in 1911, when considerable machinery was freighted in from Marysvale to hydraulic the clays. Remains of an assay office still stand, but the gold content runs about a few cents a yard.
---
MILLARD COUNTY UTAH
Millard County is not a big producer of gold and all of its 500 ounces came from placers in the House Range about 45 miles southwest of Delta. Most of the recoreded production was in the depression years although some activity continued until the 1950's. The best areas are in the Amasa Valley and Miller Canyon.
Miller Canyon / House Range
The House Range of mountains in the west desert of Utah has a small area where fine placer gold was mined from in the 1930's through the 1960's. The two locations to check are Miller canyon on the southeast end of the range, just north of highway 6 - highway 50, and Amasa Valley just north of Notch Peak. The gold recovered here was very fine and it's source is unknown or unlocated. There is a very small stream in the upper end of Miller Canyon, otherwise water is very scarce. Them Amasa Valley region is where most of the gold was recovered but it is dry most of the year. There was no large scale operations run here as far as I know. The region is very remote and has not seen a lot of activity. There are a lot of untouched areas left to be prospected in the area. The gold is very fine and difficult to recover. I am sure there are no economically rewarding deposits to be found, but there is enough to find and probably some untouched pockets that would make it worthwhile if you happened onto one.
---
PIUTE COUNTY UTAH
Between 1868 and 1959 Piute County produced approximately 240,000 ounces of gold. The gold came mostly from the lode mines in the Tushar Range in the western part of the county. Placer gold was originally discovered in Piute County in Pine Gulch Creek south of Marysvale in 1868, but placer gold has not been significant in Piute County.
Marysvale
Gold can be found in the Marysvale area. If you go southwest of Marysvale by 6 miles, in the Tushar Range, you will be in the Mount Baldy (Ohio) District. This district produced 77,500 ounces of gold between 1868 and 1958. In Pine Gulch the bar and bench gravels contain placer gold. At the Ohio Camp, there were man area mines with minor gold showings, with silver. At the Mount Baldy camp, many area mines and claims contain lode gold. The Deertrail Mine was the principal producer in the area, but was primarily a lead - silver lode with a by product of gold. If you go West by Northwest of Marysvale by 10 miles, in the northwest part of county, you will be in the Gold Mountain (Kimberly) district, with some of the mines in adjoining Sevier County. This district had a total production of 159,000 ounces fo lode gold from 1889-1959. The Annie Laurie Mine was the most productive in the district. The Sevier Mine was second most productive. There are many mines in the district with gold showings.
---
SALT LAKE COUNTY UTAH
Most of the 10,651,000 ounces of gold produced in Salt Lake County came from the world famous Bingham Canyon copper mine which is located about 10 miles southwest of Salt Lake in the Oquirrh Range.
Alta
Alta today is a famous ski resort, but it began as a mining town. There are many old mines that produced lode gold with lead and silver.
Bingham
Bingham is located in the West Mountain district on the east slope of the Oquirrh Range and is the leading mining district in Utah and the forth largest in the United States. Gold was discovered here in 1863. In Bingham Canyon, the entire length (including Bear Gulch to its head) produced rich placer gravels. Most of the area has productive placers in all tributary streams. In all neighboring canyons gravel can be found on walls high and dry above the present streams and they all contain gold. In Middle Bingham Canyon on Argonaut, Dixon, Cherikino, and upper Clays ground there are productive placer deposits. In Carr Fork, The Gardella Pit, was a rich placer deposit. In Lower Bingham Canyon, the St. Louis, Lashbrook, and Schenk placer were all very productive. The rim deposits, in the Old Channel , Clays, and Mayberry placer workings were also very rich. In the West Mountain and Bingham Placers the workings in Deep gravels were also very rich. Along Damphool Gulch, is another rich placer deposit, you will find angular gold, nuggets to a very large size. At the mouth of Damphool Gulch there were some very rich deposits the were worked by shafts to work the deep bedrock. The West Jordan Claim, in Bingham Canyon, was the original discovery site for the placer gold. The district is estimated to have produced over 1,000,000 ounces of placer gold. The Highland Boy mine led to the original discovery of pyritic copper ores that produced a by product of gold.
Brighton
Brighton is now a ski resort, but was once a boom town for gold, with copper and silver.
Copperton
The area copper mines produce a by product of gold.
Salt Lake City
There is a rumor that on the due east side of Salt Lake City, on the mountainside a short distance above the Pioneer Monument, a large cement slab seals the entrance to a tunnel which, rumor has it, is an undeveloped, extremely rich lode gold mine owned by the Church of Jesus Christ of Latter Day Saints as a reserve should they ever need it. If you go southeast of Salt Lake by 20 miles you will be in the Cottonwood Mining district. This district produced over 30,000 ounces of gold at Little Cottonwood and Big Cottonwood camps.
---
SAN JUAN COUNTY UTAH
San Juan County is credited with around 2,000 placer ounces, but most of this came from small scale operations, so much of the gold was not reported.
Blue Mountain District
There are many regional mines in the Blue Mountain District with gold showings. This district is a few miles west of Monticello on the southern slopes of the Abajo Mountains. Most of the work was done on Johnson and Recapture Creeks and some of there tributaries. Most of the gold in this area is fine and hard to recover.
Bluff
In 1892 some 1,200 prospectors arrived but went away empty handed from this location. The regional placer gold is in all watercourse gravels, but it is so fine it is hard to recover. At the mouth of Montezuma Creek there was extensive placer operations. Below the mouth of Nakai Canyon at Zana Camp, about 20 miles above the junction of the San Juan and Colorado Rivers there was also extensive placer work done. The Spencer Camp, in the Great Bend of the San Juan, 6 miles below Zana Camp there was also extensive work done. Below Nakai Canyon there is placer gold too fine for recovery, but much heavy equipment was brought into these areas. Much of the area has been covered by Lake Powell at this time.
---
SUMMIT COUNTY UTAH
The Summit County Mining area actually stradles the Wasatch County line.
Park City
Park City is now a major ski resort, but it started as a mining town. the Snake Creek and Blue Ledge Districts in the northwest corner of Wasatch County had a total production of 790,000 ounces of lode gold. There are many area mines in and about town. Most were lead - silver mines with a by product of gold. The Ontario Vein was discovered in 1872 and was very rich. The Treasure Hill mine was a lead - silver mine with a rich by product of gold. The Silver King Mine also had extensive workings. The United Park City Mining Company and the New Park Mining Company were the major producers of gold in the Counties.
---
TOOELE COUNTY UTAH
Tooele County produces many minerals. Arsenic, Gold, Lead, Silver, Copper and Tungsten have been produced in quantities. Tooele County is estimated to have produced around 1,257,000 ounces of gold.
Gold Hill
Gold Hill is located in the southwest corner of the county. The Clifton (Gold Hill) district near the Utah - Nevada line had a total production of around 26,000 ounces of gold between 1892 and 1944. There are numerous mines in the area, but the Cane Springs, Alvarado and Gold Hill mines lead in production. In the Deep Creek area there were some small copper - lead - silver mines that had a by product of gold. This area has also produced large quantities of bismuth and molybdenum. Legend has it that placer gold was discovered here in 1858, but the Indians drove the prospectors away. There is no record of these placers ever being worked though.
Mercur
Mercur is no longer on maps, but in 1902 about 12,00 people lived here. It is reached from Route 36 South of Tooele a short distance South of route 73 turnoff east to Ophir. The Camp Floyd (Mercur) district, is 55 miles southwest of Salt Lake City and had a total production of 1,115,000 gold ounces. The Mercur, Delamar, Geyser-Marion, Sacramento, Sunshine, Overland, Daisy and La Cigale mines all were very productive. Mercur was totally destroyed by fire and was Utah's only all gold mining city and was considered to be one of the world's greatest gold camps, surpassed in its heyday only by Goldfeild, Nevada. Here is where the cyanide process was first introduced into North America. The enormous settling basins are spectacular, as are the sky scraping tailing piles within the old townsite. The first long distance power transmission line (from Provo) ever developed to that time was brought in to run the giant mills. In Sunshine Canyon, the ghost camp of Sunshine had many mines as well. On the Western side of Oquirrh Range the old camp of West Dip had many mine too.
Ophir District
The Ophir district is located between the Camp Floyd and the Bingham Districts and is reached south of Tooele via routes 36 and 73. The Ophir - Rush Valley Districts produced 104,000 ounces of gold. On the west edge of town, The Ophir Mine was a lead - silver mine with a by product of gold. You can find some excellent pyrite crystals on the dumps. In Rush Valley there were a lot of mines as well.
Stockton
Stockton is located 7 miles south of Tooele. Just east of town is the Honorine Mine which was a major producer of lode gold.
Willow Springs District
The Willow Springs District in the far southwest corner of the county in the south part of the Deep Creek Range had a total production of 11,650 ounces of gold. Many mines in the area.
---
UNITAH COUNTY UTAH
Unitah County is not a noted producer of gold, but some 1,500 ounces have been recovered from placers on the Green River in this century alone. Most of the workable area is near Vernal. Like much of Utah's Gold, it is very fine and can be recovered with modern equipment only by using great car. Most of the gold was found at Horseshoe Bend, near Jensen and just below Spit Mountain Gorge.
---
UTAH COUNTY UTAH
Utah County has two major gold producing areas. the east Tintic area has probably produced at least 250,000 ounces of gold, but most records credit that to Juab County. Utah County gold production is usually quoted at 45,000 ounces which was mine in the American Fork District located about five miles southeast of the Cottonwood district. The ore here also contains several other commercial minerals, mainly silver.
American Fork District
The American Fork District is located in the northeast part of the County, in the Wasatch Range about 5 miles south of the Cottonwood District. The total production of this district is around 45,000 ounces of gold. The Miller mine was the chief producer of lead and silver from 1870 to 1936 and had a by product of gold. There are numerous mines, mostly idle since 1880.
Santaquin District
Numerous mines in the area.
Silver Lake District
Many lead - Silver mines with a by product of gold.
---
WASATCH COUNTY UTAH
Heber City
Along the North Fork and Snake Creek there are numerous old mines that produced a by product of gold from silver mining operations. At Grey Head Mountain, northeast of Heber City, in a region of about 100 square miles lying about 50 miles west of Duchesne in Duchesne County, via U.S. route 40 at Indian Lake, Avintequin and Sams Canyon there are many old mines and prospects for lode gold.
---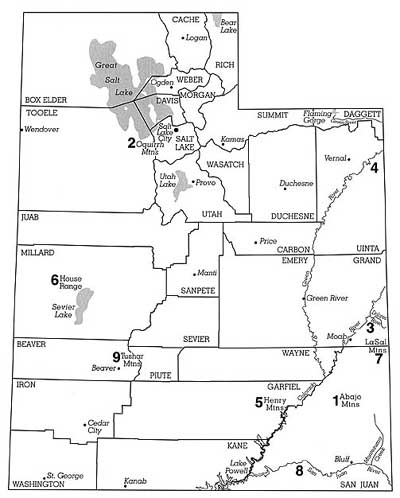 Abajo Mountains - Along Johnson and Recapture Creeks.
Oquirrh Mountains, Bingham Canyon - Was the largest gold placer in Utah. The original topography has been altered by the open-pit mining operations.
Colorado River - From the mouth of the Dolores River south to the Amasa Back bend west of Moab. Most placers were from the Dirty Devil River south to the Utah-Arizona border and are now under Lake Powell.
Green River - From Flaming Gorge Reservoir down to Horseshoe Bend.
Henry Mountains - On the east flanks of Mt. Ellen in Crescent Creek and Mt. Pennell along Straight Creek.
House Range - In Amasa Valley and Miller Canyon.
La Sal Mountains - In glacial deposits and streams of Miners Basin, Wilson Mesa, Bald Mesa, and around North Mountain.
San Juan River - From the mouth of Montezuma Creek west to Lake Powell.
Tushar Mountains - In Mill Creek on the north flank of Signal Peak and near the mouth of Pine Gulch Creek in Bullion Canyon.
---